Ever since I first heard Duane Eddy play Rebel Rouser I knew I wanted to play guitar. I begged my parents to let me take lessons and I received a Fender Stratocaster to learn on. I later found out that my family's hardwood lumber business was supplying all of the Ash and Maple to Fender Musical Instruments.
Pretty soon it was Dick Dale, Eddie and the Showmen, The Ventures, Shantays, Challengers and Astronauts. Then folk and bluegrass music at The Ice House in Pasadena, The Ashgrove and The Troubador with the likes of the Dillards, Stewart Clay, Doc and Merle Watson, Sonny Terry and Brownie McGhee and so many more. Listening to Peter, Paul and Mary inspired songwriting, then John Denver, Bob Dylan, Dion, Joan Baez and more. Then the Beatles invaded and changed everyone's taste in music; although surf music was hard to move aside for the Beatles in Southern California, it happened. The Byrds, Turtles, Tom Rush, Jackson Browne, Buffalo Springfield, P F Sloan . . . . it just kept coming. One day I decided to start writing songs on my own. I was in college and several friends were also writing songs and it was incredibly exciting to actually compose an original piece of material.
Then I got the idea to try to work in a recording studio. I just started hanging around the "new" Record Plant studio. One day I walked in and they were mixing the soundtrack to Woodstock . . . . I hung around for a few weeks to listen to everything that happened at Woodstock . . . . then one day I was there for a session with Country Joe and the Fish. This was really getting exciting. My fraternity brother, Tom Bahler, helped me get a job at TTG / Sunset Highland Recording Studio as an assistant engineer. TTG was where The Mother's of Invention recorded their first album. Ami Hadani, who owned TTG and was Count Basie's favorite engineer was the genius behind so many great recordings in the 60's and 70's. After the Mother's, Ami decided to refocus TTG's efforts towards movie soundtracks, TV shows, symphony projects and a few selected record dates.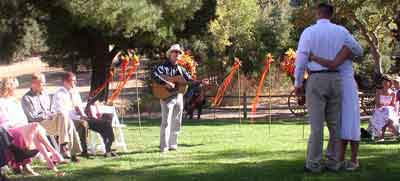 My experience included The Don Knott's TV show, Vanishing Point movie and it's with Vanishing Point that things really started to get interesting. An unknown duo signed to Amos Records called Longbranch Pennywhistle was in the studio working with staff engineer Mike Leitz on a few songs for Vanishing Point. I had the opportunity to get to know Glenn Frey and J D Souther. Mike Leitz took me under his wing and helped me learn more about engineering at United Studios where he was doing the pre recording for the Andy Williams TV show with Mike Post arranging and conducting the orchestra and an album with Don Ho and later Johnny Rivers. It was a great time to be able to work with so many great musicians. All of the top studio musicians were in TTG on a regular basis : Hal Blaine, Mike Daisey, Larry Knechtel, Larry Carlton, Tom Scott, Lincoln Miyorga and so many more. I sold some songs to Four Star Music and did the demos with a really good songwriter from Texas named Patti Dalhstrom. I also played a few gigs around town and sang at friends weddings that took me to places like Aspen, CO; Santa Barbara, CA; Yosemite, CA; Carmel, CA and various other churches around Southern California. I also played for several months at Earth Mother's Restaurant at the end of the Malibu pier.
When I moved to Aspen in 1970 I hooked up with a good guitar player Jim Deines from Fort Collins and we played at several clubs. It was in Aspen in 1971 when I ran into Glenn Frey again as he was in town with his new band "Eagles" rehearsing for their upcoming recording sessions in England with Glyn Johns; they played at The Center at the foot of Bell Mountain for two weeks . . . they were great then! but who knew . . . truthfully, I did. After returning home to LA in 1972 I ultimately decided that the music business was something I'd have to enjoy as a passion not as a career. I was invited to several friends recording sessions and rehearsals but didn't think twice about sticking to me real job for a living. I took up the mandolin and won "best new mandolinist" at the Topanga Canyon Banjo and Fiddle Contest in 1975 . . . thanks to John Zehnder at McCabes. My friend Hal Beery and I would perform at the annual Garden Theatre Festivals. My roommate when I was living in Santa Monica and Pacific Palisades, Marty Kaniger, was a full time musician and songwriter. His regular gig was at Regular Johns on San Vicente Blvd and every Saturday night Big Daddy Dipstick and Lube Jobs would perform oldies from 10 to closing (I sang the "Calendar Girl" type songs). Marty would go to refine the group to Big Daddy and record several CD's with their most creative style, check out this story : BIG DADDY.
I wrote a song for Toni and performed it at our wedding.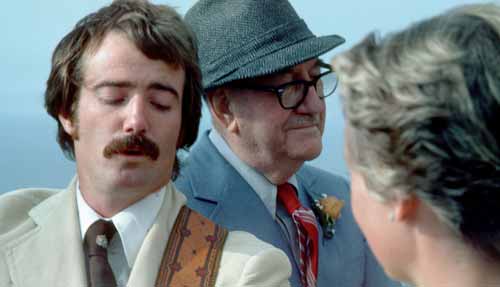 After moving north to Fair Oaks I decided to pursue my music passion more regularly.
Several years ago I saw an article in the Sacramento Bee in which a local choral group was auditioning for more tenors. This was my chance to get into some "serious" music. So I met with Don Kendrick the director of the Sacramento Choral Society and Orchestra for my audition, it went well and I began rehearsing with the group for my first choral performance, Ralph Vaughn William's "Sea Symphony". It was the highlight of my musical life to that date. What an incredibly uplifting piece of music. Over the next two years, I sung with SCSO performing Verdi's "Requim Mass", Mozart's B minor Mass, an evening of Cole Porter songs and two Holiday concerts. The amount of learning that took place during those two years was so valuable but I decided to leave the group and devote an equal amount of time to my own music.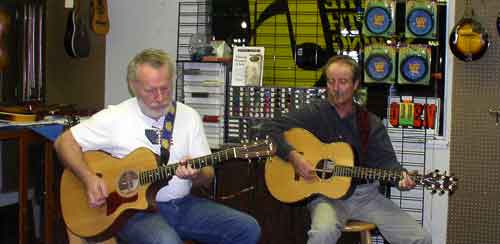 Prior to moving to San Luis Obispo, I was the Sacramento Songsalive! coordinator performing and coordinating the Songwriter's Showcases and Workshops. I hosted 18 showcases I'm turning my efforts toward songwriting and playing at bluegrass festivals and local gigs in and around the SLO area. I commeneced recording my first CD in Sacramento in 2004 and finished it in September of 2005. The CD should be available for release in November. It's a CD which showcases my songwriting diversity and production skills. My goal for the CD is to find publishing companies interested in using my songs.
After moving to San Luis Obispo, I met Peter Morin who helped me produce two concerts. I became friends with the members of the band "Better Late Than Never" and began playing with the bass player, Salley Vedder, playing as a duo at local coffee shops and open mics. San Luis Obispo is a very musical town and the more people I met the more I got involved. Musicians like Roger Simonoff, Peter Yelda, Steve Watt, Steve Key, Scott Smith and others became my circle of musical friends. I also helped a local concert promotor, Steve See with his concerts and got involved with SLO Folks, another concert promoter (I joined the board of directors). An organization that I helped co-found called The Bluegrass Music Society of the Central Coast was formed to promote and produce the Parkfield Bluegrass Festival. I met a Jim Thurman at a party at Pete Morin's house and we decided to form a duo and called ourselves The Buchon Brothers and played origianl songs and other Americana music for 2 years until Jim decided to concentrate his efforts on his teaching and I looked elsewhere for musical opportunities. It didn't take long.
I continued writing original material and hooked with local musician Ralph Goff to play an ocassional gig. We invited a recently transplanted musician/mandolinist, Tony Pires to sit in with us. Not long after, Sally Vedder began to sit in and SLO Pokes was created. SLO Pokes played many gigs around the central coast, for private parties, harvest festivals and wineries. Sally moved to Mexico and Elita Chaffin took her place, then Ralph took off rambling around the western US and Steve Watt on dobro took his place. Due to many commitments I had made for the year of 2014 I had back away from SLO Pokes but we still get together jam. I got a regular gig at El Colibiri Hotel and Spa in Cambria and invited my friend Adam Levine to sit and now we have several gigs for the rest of the year.